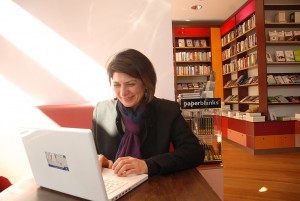 As a writer, Christine Madden works as freelance journalist, editor and literary translator. Born in Washington, DC, she has also lived and worked in Dublin, Ireland, as well as in Berlin and Munich, Germany. She received a Bachelor of Arts in History from Georgetown University, Washington, DC, and studied philosophy at the Ludwig-Maximilians-Universität, Munich, and screenwriting at University College Dublin.
After working as a freelance journalist and editor in Munich, she moved to Dublin, where she worked as subeditor for The Irish Times from 2000-2003. She also wrote extensively for The Irish Times, primarily as theatre and dance journalist, but also covered literature, the arts, features, lifestyle, news and special reports. Currently she divides her time between Munich and Berlin, where she works as a freelance arts journalist and correspondent.
Christine's work as a dramaturg began when she became literary manager of Rough Magic in 2004, where she supervised the SEEDS programme for writers, considered and assessed play submissions, searched for young playwrights and assisted commissioned playwrights in the development of their work. In 2008, she joined the Abbey Theatre as New Playwrights Programme Manager, where, in addition to creating, supervising and curating the eponymous programme, she was in charge of assessing play submissions and seeking out and identifying new writing talent.
Additionally, Christine conceived and, together with Dublin Theatre Festival and Theatre Forum Ireland, developed the programme The Next Stage for the DTF. Inspired by the International Forum at the Theatertreffen theatre festival in Berlin, The Next Stage offered myriad further development opportunities for young theatre professionals, including workshops with international directors and playwrights, attendance at the festival shows and talks with renowned theatre-makers. She supervised this programme in 2007, its first year, and 2008.
After leaving the Abbey in 2009, she served as one of the judges on the Irish Times Theatre Awards panel in 2010.
At the beginning of 2008, Christine spent two months as writer-in-residence at the Centre Culturel Irlandais in Paris, where she worked on her own literary and stage writing.
Christine has also done numerous translations of literary work, and prepared surtitles for plays, from German into English. These include literal translations of Kabale und Liebe by Friedrich Schiller (Luise Miller) and Die Physiker by Friedrich Dürrenmatt (The Physicists) for the Donmar Warehouse Theatre in London.
She has translated other works, most recently the architecture volumes Wein und Architektur, and Wein und Raum together with co-translator Kathrin Enke, and co-translated Frei Otto, a biography and critical examination of the life's work of the eponymous architect.
Christine has also written numerous short stories for Spotlight magazine.