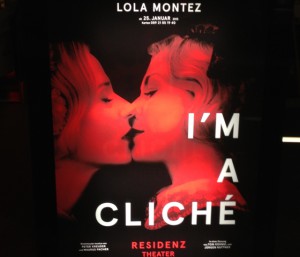 ONCE upon a time a fine, spirited wee girl was born to her Irish mother and Scottish father in 1821 in Grange, Co Sligo. Or perhaps she was placed in the cradle by the fairies, because little Eliza Rosanna Gilbert grew up to change her name and nationality several times and travel the four corners of the world in search of excitement and adventure. When she died, at the early age of 40, the world knew her better as Lola Montez, the Spanish dancer. As such, apart from gaining notoriety in Europe, Asia, Australia and North America, she became a countess in the central European country of Bavaria, started a revolution there and toppled its government three times.
"Next to Queen Victoria, Lola was the most famous woman in the world," asserts German director Jürgen Kuttner, whose new production – with co-director Tom Kühnel – of the musical Lola Montez, by Peter Kreuder and Maurus Pacher, has just premiered at the Cuvilliés Theatre in Munich, Germany. "She was a superstar not even someone like Madonna could reach."
Already a legend during her lifetime, Lola thrust herself into a whirlwind of adventure, excess and scandal that would make a society reporter blush. At 16, Gilbert eloped with a British lieutenant, but the couple separated shortly thereafter. She relaunched herself under her new identity as Spanish dancer Lola Montez and travelled across Europe, trailing scandals in her wake. In 1846, she arrived in Munich, the capital of the kingdom of Bavaria (now a state in the Federal Republic of Germany).
She sought an audience with King Ludwig I and, when he asked if her chest dimensions were real, ripped open her bodice to prove it. The 60-year-old king became besotted with her. He had her portrait painted and placed in his "Gallery of Beauty". When Lola, reviled by the populace and government alike, wished for more power and acceptance, Ludwig made her first a Bavarian citizen, then the Countess of Landsfeld, an imaginary place. To accommodate her wishes, he dissolved and reformed his government twice. Ludwig presented her with a palace in a chic city-centre location and showered her with money. But rather than keep her head down to avoid further antagonizing an irate and begrudging population, she wore black and smoked openly in the streets – both taboos – while walking her enormous Great Dane.
Eventually finding herself at the centre of public hostility and warring student fraternities, Lola convinced King Ludwig to close Munich's university. The tumult, fed by the widespread revolutionary spirit of 1848, became so great that Ludwig had to abdicate in favour of his son Maximilian to save the monarchy. Lola fled the country. The cigarette she smoked and flung away when she escaped was scooped up by an eccentric count and is still on display in the Munich City Museum.
Kuttner and Kühnel take the originally twee musical and mash it up with references from popular culture to present Lola Montez, one-time Irish rose, as a sexy, street-smart heroine and role model for contemporary women. "She was the first femme fatale," Kuttner enthuses. "She broke through the limits of what was possible for women. She was a template for Marlene Dietrich. The first vamp." Kühnel chimes in: "The first Lola."
The production conceptualises her as going through a "time-tunnel from the future", explains Kuttner. "She lands in this bucolic, idyllic Munich where men drink beer and women are at home raising the children, and she blasts into it all like a UFO."
As an operetta, Lola Montez owes more to music video culture than to Gilbert and Sullivan. The stage Lola has cloned herself – there are two of them, portrayed by Katrin Röver and Genija Rykova ­­– and she/they act/s like a raven-haired Marilyn Monroe playing Lisbeth Salander in a Lady Gaga music video. Lola-Lola belt out sections of the S.C.U.M. Manifesto by Valerie Solanas (the radical feminist who shot Andy Warhol) and 'I am a Cliché' by the 1970s punk band X-Ray Spex.
A German pop culture personality in his own right, Kuttner appears on stage as ringmaster with an energetic, mischievous philosophical rant. The Munich-based post-punk singer and musician Pollyester (alias Polina Lapkovskaja) and her band perform electronic/percussive musical backing for the actors. A nod to Montez's time in India, the two Lolas deliver the song 'You are my Chicken Fry' by Bappi Lahiri, with a portly, wigged King Ludwig I jiggling and undulating his rotund figure to the Bollywood hit.
In Kuttner and Kühnel's production, these slices of pop culture collide with slapstick and Bavarian kitsch, delivered by a lavishly costumed cast. A chamber quartet on stage provides a distressed version of the original music. It's an uneven success, requiring a bit of the discipline that Lola presumably never had, but still remains an entertaining, hallucinogenic night out. And it presents an Irish adventuress as a feminist prototype for contemporary women while having breathless fun at the same time. If she were alive today, Lola would probably be thrilled with it.
Published in The Irish Times on 4 February 2013: Sligo girl reviled by Bavaria: the musical