Berlin's new bank holiday gives birth to a revealing performance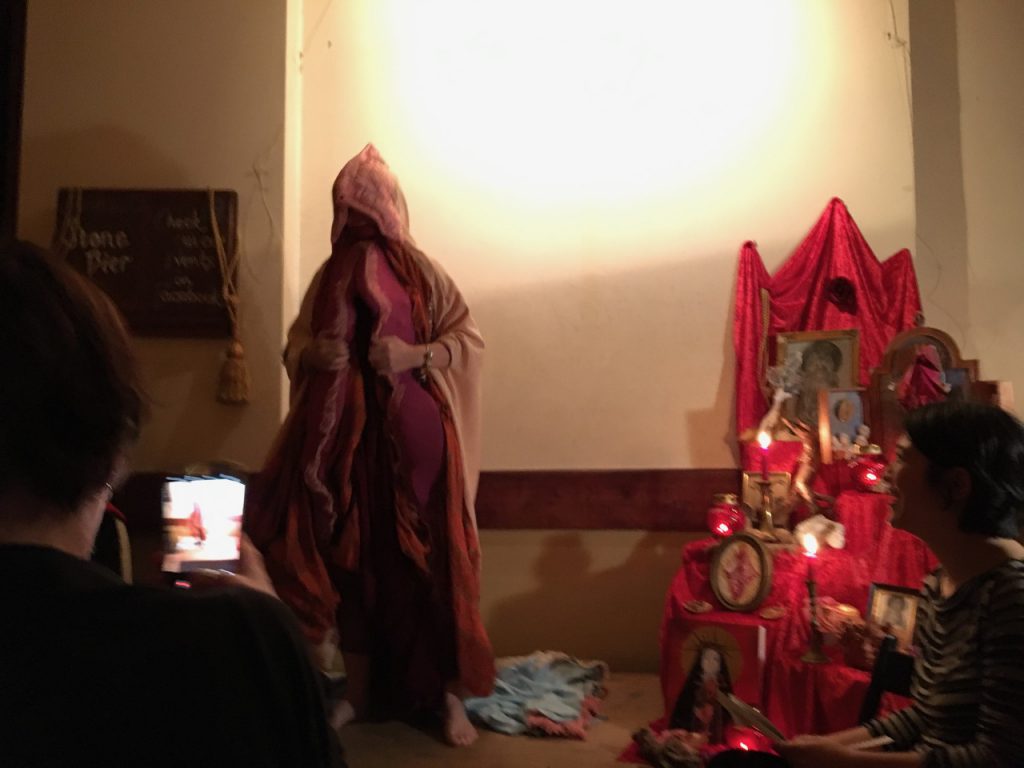 It's not every day you get to watch a giant vulva reveal itself on stage to the lilting tones of Ave Maria sung sean-nós. It was a tonic after a week of running after film clips, dodging the raindrops and asking for views on Berlin's sparkling new International Women's Day bank holiday. And where else but Berlin would you get it?
Apart from all the demonstrations, strikes, information days, breakfasts, there were evening parties and club events. This one, however, put together by Nina Hynes and Dee Mulrooney, two of the initiators and organisers of last year's Craw Festival, nested itself in the intimate back room of the Wein-Salon in Berlin-Friedrichshain. Nina Hynes performed on a variety of instruments and sometimes belted, sometimes whispered out her own tunes about womanhood. For one song, she split the audience down the middle – the fault line cleaved between my husband and me – with one side panting out a rhythmic high E, the other chanting out a low "vul-va, vul-va, vul-va". For those without a "vul-va", Hynes suggested, they could share one with someone else – but only by invitation. 
Then she switched styles to the reverential, crooning Ave Maria – the cue for the Growler, aka Deirdre Mulrooney, who shed her Tizian-blue mantle to expose herself in wavy layers of red, complete with a nub of a pink cap. Her performance combined singing and stand-up, infused with a kind of native, feral spirituality. It had us in stitches – until she sang about the babies of Tuam.
Alongside the small stage – about the size of a Eur-palette – stood a candleholder, the accumulation of wax on it reminiscent of a cave encrusterd with stalagmites. In between there was an altar of sorts, decorated with votives of both the Virgin Mary and an embroidered vulva. In appearance they resembled each other to a surprising degree. But I'm sure Mary would have approved. She, too, had a vulva. Nobody really knows how Jesus got in there in the first place, but he almost certainly came out the usual way.
Thank God – or Mary – that you can still find venues and fringe acts like this in the middle of Berlin. In a world in which gentrification is closing down small neighbourhood venues, city-centre Berlin still has corners and back streets where you can stumble on to places like the Wein Salon. Or be initiated into by a friend. Irish artists have leapt into this haven and forged their place in it. The atmosphere is something like Greenwich Village ca. 1961 (I imagine in my fantasies, sadly not having been there to experience it). No better way to conclude Berlin's first International Women's Day holiday.
ŸŸŸTo see my video about Berlin's new International Women's Day holiday, click here